New WWE 24/7 Champion Crowned On Raw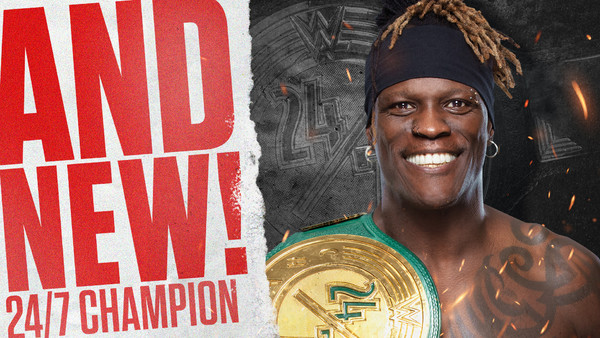 R-Truth defeated Akira Tozawa to once again become WWE 24/7 Champion on Monday's episode of Raw.
The win means Truth has now enjoyed (ahem) a whopping 37 reigns with the comedy belt. WWE's official Twitter account had a special graphic all ready to go - it showed a beaming R-Truth proudly posing with the green and gold belt.
Thirty seven times. Thirty seven!
Tozawa, who was backed by his ninjas (pro wrestling, folks), only beat Truth to bag the title himself on last week's show. His reign was brief though, but it shouldn't be too long until he gets another. The once-overlooked 205 Live man has earned himself some spotlight lately with his over-the-top characterisation, and he's making the most of it despite the 24/7 Title's questionable credibility.
The non-stop madness continues.
Truth also revealed recently that Vince McMahon is a huge fan of his music. Is it only a matter of time before the new 24/7 Champ releases some sort of title tie-in? Maybe WWE are waiting for his 100th reign before that happens.
So, expect that rap album to drop sometime around Christmas. Just a guess.